The Center for the Humanities at Tufts (CHAT) was established to promote innovative, collaborative study in the humanities and arts, and encourage conversation and debate in an effort to reach beyond the borders of a given discipline.
Image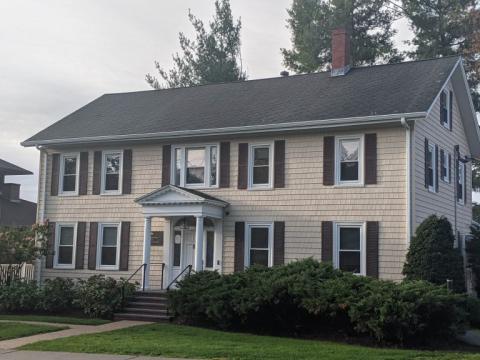 After a renovation of the former Provost's House at 48 Professors Row, the Center began in spring 2008 by hosting a symposium on "The Art and Ethics of Translation." Since then, the Center has endeavored to become a hub of intellectual activity and initiative on campus. Numerous scholars, public intellectuals, writers, filmmakers and artists have come to Tufts to present their work at the Center. Our guests have included the Nobel Laureate Kenzaburo Oe, Pulitzer prizewinner Rita Dove, National Book Award winners Ha Jin and Stephen Greenblatt, MacArthur Fellows Lydia Davis, Peter Cole and Alex Ross together with such distinguished authors and academics as Jamaica Kincaid, Ian Buruma, Stephen Pinker, Amitav Ghosh, Jokha Alharthi, and Peter Beinart.
All of the Center's events are free and open to members of the Tufts community. In addition, some events are also open to the public. Through all of its programs, the Center works to promote interdepartmental and cross-campus dialogue, to raise the profile of the humanities and arts at Tufts and in our surrounding communities, and to build support for scholarship and creative activity. We have been fortunate in our donors whose generosity has enabled us to expand and enhance our programming.
The Fung House, which is the home for the Center for the Humanities, was named after Tufts alum E. Michael Fung, A79, A12P, who gave a generous gift of $1.5 million to the humanities at Tufts. Read more about Fung on the Office of the Trustees' website.