Image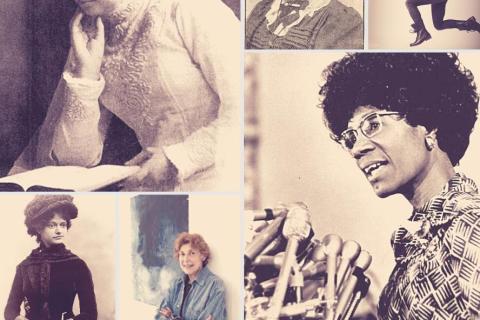 Women's histories should constitute half the historical record. But they do not. Both the written record and the filmic record over-document the stories and histories of men; women of color and the stories of women from marginalized groups are particularly underrepresented. As social historian Tiya Miles poignantly notes, women as a whole are a group that has "…been socially disempowered and therefore often overlooked by the keepers of records and the intellectual architects of archives."
The Half the History project aims to help change this. 
A digital humanities project, Half the History consists of a vibrant interactive digital site with a focus on short-form content, including original and curated short films, short biographies that illuminate the lives of women, and interviews with biographers, historians and filmmakers whose work has similarly focused on shining light on women. The first stage of the project focused on U.S. women. Some of the portraits will be of better-known women, such as Shirley Chisholm and Helen Frankenthaler; others will focus on fascinating women whose lives have not yet seen any major biographical, historical or filmic representation, like Elaine Goodale Eastman, Belinda Sutton and Margaret Lothrop.
It's the intent of Half the History to use the different digital representations we produce to complement and supplement each other. A written biography lacks the visual immediacy that film can provide; most films do not have the time to go into the depth or detail that written biography can bring. Together we intend to paint more complete portraits.
Half the History began as a film project conceived of by Executive Producer Jennifer Burton, in collaboration with Five Sisters Productions. To date, with director Ursula Burton (Otis College of Art and Design), editor Gabrielle Burton, and producers Maria Burton and Charity Burton, they have produced nine Half the History shorts:
"Tell My Story" (on the diversity of under-told stories of women in US history); "Belinda's Petition" (on Belinda Sutton's successful claim for reparations in 1783); "Margaret Lothrop and the Wayside" (on preservation of a historic home); a triptych on abstract expressionists Helen Frankenthaler, Joan Mitchell, and Elaine deKooning; "Shirley Chisholm: Catalyst for Change"; "Variations on a Theme: Florence Price and Amy Beach" (on two groundbreaking composers); "Tapping into Our Past, Tapping into Our Future: Ayodele Casel" (on the history of Black women in tap dancing). They are also currently in production on "Living Art: Colette" (on the germinal punk performance artist) and "The Mercury 13" (on the women who tested to be NASA astronauts in the 1960s).
Jennifer Burton is a Professor of the Practice in film at Tufts University, and is a founder of FIVE SISTERS PRODUCTIONS, the female-led independent film company she helms with her four real-life siblings. They have created a large body of quality films, even in the face of systemic gender discrimination and inequity in funding. Their award-winning shorts, features, and documentary films encourage belief in the possibility of positive change. Titles include Kings, Queens, & In-Betweens (feature doc on gender and drag culture); Manna from Heaven (MGM, feature comedy about change at any age); Origin of the Species (directed by Abby Child, feature doc on gender and AI), and Old Guy (comic short-form series on ageism in the media). Looking at their body of work reveals how their creative style emphasizes multiple voices with ensemble casts and multi-character stories. Both onscreen and off, Five Sisters Productions Productions is committed to opening doors for diverse and complex voices, representing multi-faceted perspectives on aging, sexuality, race, and gender.
Julie Dobrow is Director of the Center for Interdisciplinary Studies at Tufts University, and a faculty member in the departments of Child Study and Human Development, Film and Media Studies and Civic Studies. She is also a biographer who has written biographies of Mabel Loomis Todd and Millicent Todd Bingham, Emily Dickinson's first editors; and Elaine Goodale Eastman, a 19th century teacher, writer and Indian reformer. Part of her goal as a biographer is to tell the stories of fascinating women who should be far better known than they are.
You can also watch the YouTube Video on this topic.